I couldn't leave you guys with just one post about a New Years Eve party! These types of parties can be fun and a great way to spend time with friends. We covered decorations and food in the last post, but there are still so many possibilities. What about noise makers?
Oriental Trading
sells lots of New Years party supplies including party poppers 10$ for a dozen, assorted noise makers at 19$ for 50, and the paper blowouts 8$ for 72 and the list goes on and on and on. You can also make these at home if you'd like a New Years type craft to do with your kids.
Here's one type of noise maker you can make yourself and have a lot of fun doing it!
Here's what you'll need:
a small bag of noisemakers. OT sells them as "whizzers" and you get 72 for 6.25!
double sided tape or elmers glue
colorful paper (maybe some left over wrapping paper from Christmas?)
streamers or pieces of ribon (left over tinsel would work awesome)
scissors
Directions:
First you'll want to roll your paper into cone shapes. I honestly couldn't think of a way to describe this but it would look something like a party hat with an open end. Here's a template that I got from here and she got it from Martha. We're not going to fold this though, hers is used for a different project. I like this one because of the scalloped edges. It just adds something to it for me :)
Be careful when rolling your cones as you want the small end to be large enough to fit your whizzers into, tightly.
Now that you have the perfect size attach your whizzers to the smaller end with glue or tape
Fold your sides (the flat ones) around to meet each other, again making sure that the paper wraps snugly around the whizzers, and glue or tape the seam down so that you have your basic shape.
After letting your noisemakers dry take your streamers, ribbon or whatever you'd like and glue or tape them around the circumfrence of the larger end of your noise maker. The streamers/ribbon/whatever should be hanging out of them and then just blow into the end with the whizzer and you're done!
They should end up looking something like this: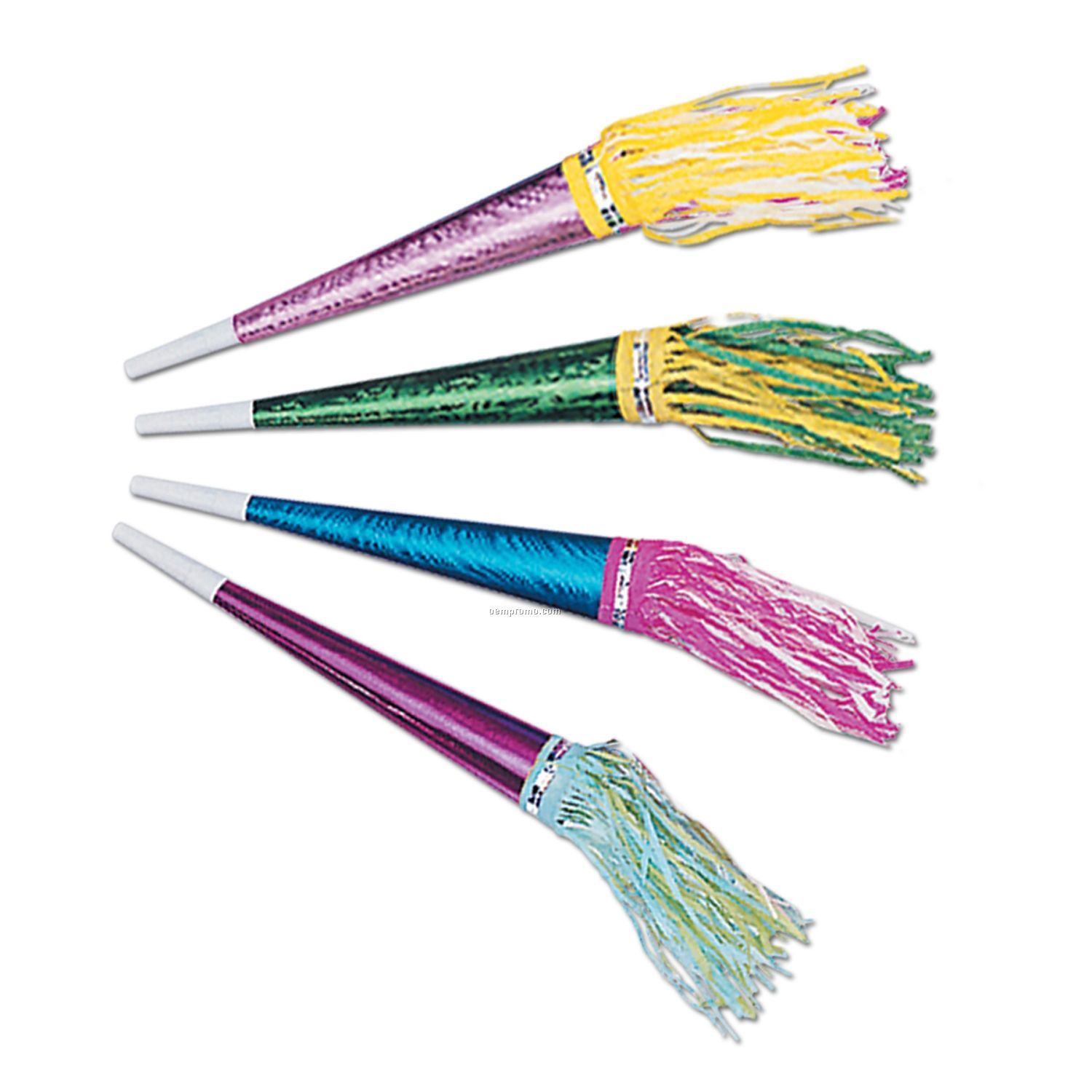 The same concept can be applied to party hats, they're just a paper cone only the tinsel would be applied to the smaller end of the hat. Stretchy elastic can be tied onto the larger ends with slack (through holes made with a basic hole punch) to hold onto peoples heads. Both of these projects are also great for birthday parties!