OK, so the organization posts I did before seemed to get more views than any other posts. So, I'm going to do another one. This one will be organization for kids. Keeping kids organized makes things easier on everyone involved. I've compiled just a few ideas here, these are solutions to problem areas that we have. So I'm assuming I'm not the only one!
Magnetic cups are genius. I had never considered this before but it's so easy and so cheap. All you need are small magnets you can find at any craft store and some cheap plastic cups that are just right for your child. Attach the magnets to one side of each cup and tell your child that when the cup is empty to take it to the fridge and stick it to it. Remember though, magnets do not stick to real stainless steel. This way there's no lost cups and you can easily grab them to give them a quick rinse or wash for more later.
Bath tub toy organization? I usually get the giggles when this topic comes up as it really is an annoying thing to take care of. Stores sell several solutions for this and most of them have small suction cups to stick to your bath tub wall. These products have never worked for me because they've never been strong enough to hold all the kids toys. I have found two different solutions to this problem. You can use a hanging fruit basket to store the toys, just hang it from your curtain rod. Or, if you don't have a curtain rod (like in the case of glass shower doors) then you can go buy a curtain rod. Seriously, go get one! They're really cheap and can be found at almost any store. Just hang a few baskets from this rod, stretched across the back wall of your tub and voila!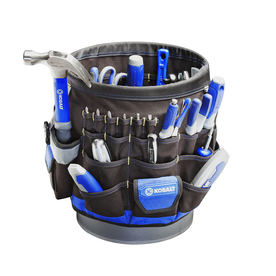 Art supplies
are scattered all over my house, in different drawers and folders and on different surfaces. The kids and I do a lot of arts and crafts. Just recently I saw an idea where you can purchase a product called a bucket boss. This product basically fits perfectly in a five gallon bucket and is normally used for tools. However, I think it would really be perfect for art supplies. This type of product goes usually for somewhere between 15-25 dollars. I found the one in the picture
here
at
Lowe's
for 14.98. I love Lowe's I really do. Basically you can fit all of your smaller things like pencils, markers, scissors, glues, etc in all the little pockets and your larger things like papers, books, long rulers, etc in the middle.
What about displaying your little one's art? I really like this idea. Basically you just get several small strips of wood (Lowe's) and some basic office clips from any office supply store. Attach the clips with either hot glue or screws to the board and attach the board to the wall. You could also put a cute quote above this like "Masterpieces" "Future Artists" or just "Artwork" in a cute font. The boards could also be painted and stained in so many options!
Another idea that I'm just in love with is using metal rain
gutters
(10 ft. for 7.49) to
organize children's books!
Gutters can be bought cheaply at Lowe's and attached to the wall studs horizontally, open side up and books placed inside. You can use
gutter hangers
to hold them if you'd like. Paint the gutters however you'd like, or just leave them plain. Use a level to make sure each gutter is level and don't forget end caps. The ends of gutters can sometimes be sharp so always
cap
the ends to protect little fingers!
That's all I've got for now guys, I hope you've enjoyed it. I'm sure I'll come up withsme o more. I can't do it all in one post you know!