I am a firm believer in having a date night or some form of spending time with your significant other. It helps the relationship grow, especially when you have children. Brandon and I rarely get any time together alone and I really feel like that's important- not just for us but for every couple. Time alone
without
the kids that is. It's just not the same thing with them.
So I managed to get a free night together tonight even though I don't get off of work until 11 and he doesn't get off till 11:30, we're still going to spend time together. Of course, as always, our budget is too tight to be going out anywhere so we're going to stay home and do a date night in. I'm planning on a dinner, a movie, and probably a game of chess (it's actually really competitive game between the two of us :))
Here's the Menu:
Stuffed pork chops
garlic bacon wrapped asparagus
hassleback potatoes
chocolate dipped potato chips
We love food and cooking together. I had to adapt some of these recipes from others and some I just kind of winged it on to be honest, I don't always use recipes on a simple project. For example, chocolate dipped potato chips- I kind of figured that one out on sight as I know how to melt chocolate haha.
The Stuffed Pork Chops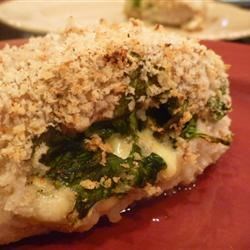 I adapted my recipe from this one, though I think hers is probably prettier than mine. I always use thick cut pork chops when making this, the thin ones are dry when cooked and annoy me greatly. You can also substitute chicken for this- I've done that before as well. Just wrap it in bacon if you use chicken- trust me. Also, either use boneless or de-bone what you have. Then you take a
very
sharp knife and slice into the thickness of the chop, creating a pocket in the middle. Per chop I use about 3-4 slices off of a small block of mozzarella, about an 1/8 of a cup of cooked spinach, roasted red bell pepper pieces and just a bit of garlic to stuff it. I then sprinkled my chops with salt and pepper to taste and begin cooking them, like a sear, on the stove top- finishing in the oven.
Hassleback Potatoes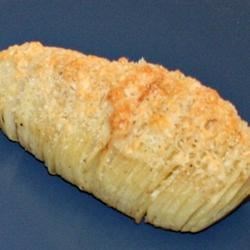 For these I use whatever cheese I have available, but first, after slicing them and baking them till brown I broil them, to get the extra crispiness, remove and add cheese and then broil again to melt the cheese. I'll be using mozzarella for these tonight.
Bacon Wrapped Asparagus
These are simply asparagus spears (trimmed and cleaned) wrapped in bacon and cooked in a skillet till the bacon is crisp with a little garlic and oil. I love these still crunchy, but can't stand them soft, they are really delicious and not something we do often at all.
Chocolate Dipped Potato Chips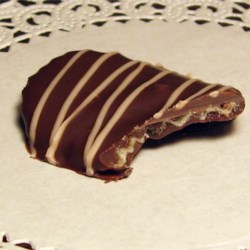 These are going to be our dessert. I love these, they're the perfect amount of sweet and salty. Again, they're potato chips (ridges!) dipped in chocolate, it's simple. Unless you're not good at melting chocolate down. I use the microwave a few seconds at a time and stirring between until smooth.
This should be awesome. What do you guys think about the menu? I think it appears to be a lot of work and seems elegant but it's really quite easy and a quick meal. It also includes all the things we love. Believe me I had to think for a long time on what to serve before I settled on pork... we eat a lot of sea food and I considered using tilapia in place of the pork but opted for the cheaper of the two.